Starting Sunday evening, November 19, the nation will experience fluctuations between the initial three phases of load shedding.
UPDATED LOAD SHEDDING SCHEDULE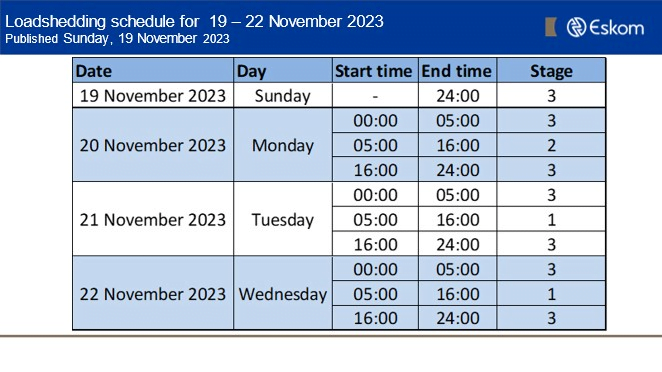 Commencing at midnight on November 20 until 5 am, the country will transition to stage three load shedding, followed by a switch to stage two. Stage three load shedding will resume from 4 pm until midnight.
Maintaining this schedule until Wednesday, the country will observe stage three load shedding throughout, with a shift to stage one from 5 am to 4 pm.
UNPLANNED OUTAGES
As per a statement, unplanned outages currently amount to 16,264MW of generating capacity, inclusive of delays at Lethabo Power Station. Additionally, the capacity out of service for planned maintenance is 6,606MW.
Eskom urges the nation to use electricity judiciously.
"Conserve electricity wisely by switching off geysers and pool pumps from 17:00 to 21:00. This practice reduces demand, alleviates pressure on the power system, and contributes to lower stages of load shedding."